MARTHA CEESAY, Immigration Attorney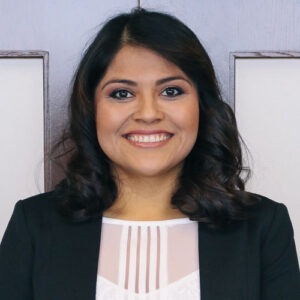 Martha Ceesay specializes in Immigration Law.  She speaks English, Spanish and French. 
Martha's education includes Campbell University Norman Adrian Wiggins School of Law, Raleigh, NC, J.D. 2014 and North Carolina Wesleyan College, Rocky Mount, NC, B.A., 2011.
Contact Martha to discuss your Immigration Law issue.
Additional Information
Campbell University Norman Adrian Wiggins School of Law, Raleigh, North Carolina, J.D., 2014. Student Representative, Law School Community, Diversity, and Student Life Committee. Secretary, Hispanic Law School Association. Volunteered at Malambo Orphanage, Arraijan, Panama (Spring 2013). Presented on Restorative Justice at National Secretary of Childhood, Adolescence, and Family (SENNIAF) (Spring 2013).
North Carolina Wesleyan College, Rocky Mount, North Carolina, B.A., 2011. Awarded NC Wesleyan's Trustee Scholarship (Four-Year Full-Tuition Scholarship); Gravely Honors Scholarship (2007-2011).
Advance Parole for TPS (Temporary Protected Status) – Spouse Petition.
Farrell law group is an exceptional firm. All of the attorneys are very knowledgeable, and professional. I was blessed to work with Martha, and her assistant Blanca. My case was a difficult case. However, Martha was on point. She represented me proficiently, and I received my green card in a timely manner. I will definitely be using them for my citizenship. – K.L., McLeansville, N.C.
U-Visa
I was denied the U Visa, so I went with Farrell to try again. They understood my situation from the beginning and helped me. The process was very long but they always kept me updated. After years of waiting I obtained my work permit and I hope that I will get my residence very soon. I recommend that you come to this firm. – F.M.S., Zebulon, N.C.
A mí me negaron la Visa U, así que fui con Farrell para volver a intentar. Ellos desde el principio comprendieron mi situación y me ayudaron. El proceso fue muy largo pero siempre me mantenían al tanto. Después de años de espera obtuve mi permiso de trabajo y tengo la esperanza de que me den mi residencia muy pronto. Yo recomiendo que vengan a este bufete. – F.M.S., Zebulon, N.C.
U-Visa
Thanks for helping me get my work permit. I haven't seen my family since 2001 and if God permits it, very soon I can go to Mexico to see my parents and siblings. Best of all, I have a driver's license and a stable job. Thank you. – M.R.D.O., Raleigh, N.C.
Gracias por ayudarme a agarrar mi permiso de trabajo. Ya tengo desde el 2001 sin ver a mi familia y si Dios quiere muy pronto podre ir a Mexico a ver a mis padres y hermanos. Lo mejor de todo es que ya tengo licencia para manejar y un trabajo estable. Gracias. – M.R.D.O., Raleigh, N.C.
Naturalization – I-601 Waiver – Consular Process
I recommend that you come to Farrell because they helped me with my citizenship. They also helped me bring my daughter from Mexico and now they are helping me with my wife's residence. My brother also got his waiver approved through his wife and after 17 years my brother and I went to Mexico together. Thank you for helping me and my family. – P.A., Michoacan, MX – Bullock, NC
Yo recomiendo que vengan a Farrell porque ellos me ayudaron con mi ciudadanía. También me ayudaron a traer a mi hija de México y ahora me están ayudando con la residencia de mi esposa. Mi hermano también le aprobaron su perdón por medio de su esposa y después de 17 años mi hermano y yo fuimos a México juntos. Gracias por ayudar a mí y a mi familia. – Pablo Ascencio, Michoacan, MX – Bullock, N.C.
DACA – Spouse Petition.
I do recommend The Farrell Law Group. You guys made the process of seem so easy and you offered to finance all the legal fees. It may not seem like much, but having the option to make payments on a monthly basis really helped. My life has changed so much since I became a legal resident. I now own my own business and I am able to provide a good life for my family. I will continue to tell everyone I know about how you guys helped me. Thank you. – L.E.L.A., Youngsville, N.C.
Special Immigrant Juvenile Visa – Legal Permanent Residence
After I graduated from high school I wanted to go to college, but I couldn't afford the out of state tuition. After The Farrell Law Group helped me get my Green Card, I am able to work part time and go to school. I was unaware that I qualified to fix my legal status, but they guided me and I am not now a legal resident. – Y.M., Apex, N.C.
Después de graduarme de la escuela secundaria, quería ir a la universidad, pero no podía pagar los costos de la matrícula. Después de que Farrell Law Group me ayudó a obtener mi Green Card, puedo trabajar a tiempo parcial e ir a la escuela. Yo no sabía que tenía la opción de arreglar mi estado legal, pero ellos me orientaron y ahora soy residente legal. – Y.M., Apex, N.C.
Special Immigrant Juvenile Visa – Legal Permanent Residence
For me at the beginning it was a very expensive process but it is clear to me that with your help it was worth it. They did a magnificent job for me. The service I received was very friendly and I was always aware of the process. We are very happy with your work and if you would have to recommend an immigration lawyer, you would repeatedly be the first option. C.H.L., Carrboro, N.C.
Para mí al principio fue un proceso muy costoso pero me queda claro que con la ayuda de ustedes valió la pena. Me hicieron un trabajo magnifico. El servicio que recibí fue muy amable y siempre estaba al tanto del proceso. Estamos muy contentos con su trabajo y si tendría que recomendar a un abogado de inmigración, repetidamente ustedes serian la primer opción. – C.H.L., Carrboro, N.C.